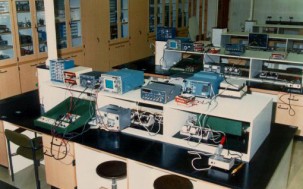 Those people who start off doing project without external assistance at times get stopped in midway due to unavailability of required gadgets  or softwares like simulation tools. These are readily available in the market but are certainly out of reach of those with a small budget and require only a single time use .It is considering this scenario we decided to be a helping hand to them. We already had the required facilities, so we decided to expand it so that it is made available to all on a payment basis. We could arrange the required gadgets and provide use of those softwares conveniently. This is the concept of Rent-A-Lab. We see that the number of small start-ups has been increasing in recent years. But these smaller companies often have limited facilities, and the concept of Rent-A-Lab can again prove helpful here. Our fully equipped walk-in electronic  labs are open to students, academics,entrepreuners and research people with facilities which include simulation tools, several IDE's, SBC's, components  and hands on tools to develop their ideas into working products/prototypes. They can use our facilities on a short-term, ad hoc basis, anything from an hour to several weeks. The Rent-A-Lab facility is available with or without technical guidance from our  Embedded system, DSP and Software departments.
 Some of the facilities available with our Labs:
Tools & Test Equipments
Components & Modules
SBCs & Development Boards

Software

Oscilloscope (CRO)
Multimeters
Function Generators
Variable Power Supplies
USB to Serial Converters
Bread Boards

GSM Modem
GSM modem with GPRS
GPS Module
Zigbee
Tarang RF Modules
433 MHz RF Modules
Distance Measurement Sensors
Obstacle sensors
Heart Beat Sensors
ECG Electrodes
RFiD Cards & RReaders
Smart Cards & Readers
Fingerprint Sensors
PIR Human Motion Detection Sensors
MEMS Accelerometers
Bluetooth Module
Servo Motors
Stepper Motors
DC Geared Motors
Batteries
General Electronic components
etc

PIC Developer kits
Raspberry Pi
Beagle Board
Intel Atom Board
Arduino UNO
TI Chronos Developmet Kit
MSP 430 Launch Pad

Simulation Software
PCB Design Software
Numerical Computation Software
IDEs
Note:
If you would like to avail our Rent-A-Lab facility, please book your slot in advance, with the details of the facilities that you need.
Many of the components will be available for purchase/rental.